How do I cancel my subscription?
Step 1: Login to your Reel Account
Step 2: Find your subscription and click on the Manage Subscription button
if you have multiple subscriptions (eg, 1 TP and 1 paper towel), they are treated as separate so you would need to edit subscription on both products separately)
Step 3: Scroll down to the bottom and click on the Cancel Subscription link
if you have any questions or comments, or need help managing your account, please click the Contact Us button to reach out to our customer service!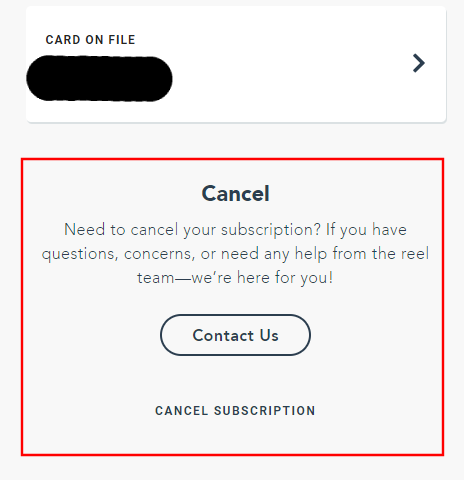 Step 4: Select the reason for cancellation and confirm the cancellation
Once you've cancelled your subscription, you'll receive a confirmation email from us. Please note that cancelling your subscription will cancel all future orders only; any orders that have been recently charged will not be affected and will be delivered as normal.
---
Have a subscription but get a "no account found" error or don't receive your reset password email? Please contact us.
---
Was this article helpful?