Account management via SMS/Texting
Updated a month ago
Great news! You're now able to make changes to your account and upcoming orders via your phone! Our automated system will text you upcoming renewal reminder notifications and allow you to modify your account or upcoming order with a few simple commands.
Account management number: 833-202-2131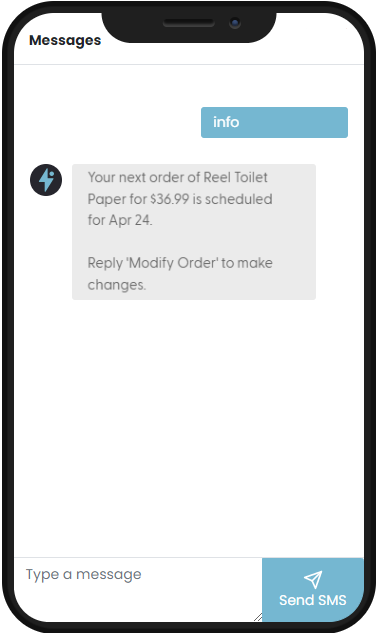 You can do the following actions using your phone by texting INFO or MODIFY to 833-202-2131:
Add 1-time item
Swap product subscriptions
Delay or skip order
Update delivery frequency
Update box quantity
Track your package
How to Opt-in
You can easily opt-in here! If you provided your cell number when you created your subscription and consented to receiving SMS, then you're all set! 
How to Opt-out
You can unsubscribe from receiving SMS account management texts at any time by sending STOP.
Any subscriber can text START to begin receiving SMS texts again.
---
Please note: our account management phone number and our marketing phone number are different - if you unsubscribe from one channel you won't be unsubscribed from the other.
---
Was this article helpful?